FUN, Fitness and Learning on wheels for preschools, daycares, parties and more!
We have developed an innovative and FUN approach to fitness which both kids and parents rave about. Parent's appreciate the care and attention their children receive while also getting fit, and kids have so much FUN, they simply can't wait for the next visit from FUN BUS!
Our Standards:
Safety First
Kid Approved
Fully Trained Instructors
Expert Lesson Plans
Milestone and Memory Making
Always FUN!
Our Mission Statement
The mission of the FUN BUS is to enhance the lives of young children by providing a fun and safe environment where kids can build their self-esteem, improve coordination and gross motor skills through physical fitness and social interaction. Most importantly, our goal is make fitness FUN!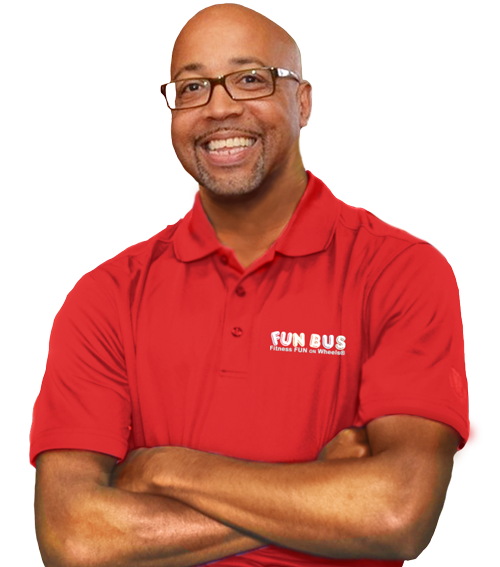 Frequently Asked Questions - General
FUN BUS is a mobile fitness "gym on wheels!" We bring the FUN and fitness directly to children ages 18mos - 7yrs in a full size refurbished BRIGHT GREEN school bus. Parents and educators LOVE the convenience of FUN BUS and children have a blast jumping, climbing, and learning - all without realizing they are getting a workout.
We provide structured fitness classes led by two FUN Instructors that consist of warm ups, stretching, cardio, music, dance, obstacle courses, group games, tumble skills and more. The Children are engaged in FUN the entire session long!
The FUN BUS parks on the street, driveway or parking lot. There must be 4 parking spots saved when we arrive and we must not be blocked in by other cars. There also must be a large enough double wide long driveway if not parked on the road or in a parking lot. Driver will assess upon arrival and has final say if it is safe to park. Obstacles like bushes, trees and fences may be a deciding factor. We usually park along the sidewalk in front of your house (school, church, park, etc). Party hosts typically reserve space for the bus by 1) parking their own cars in that space or 2) marking off the area with cones, chairs, large plastic toys, etc. We need approximately 50 feet of somewhat level space to park.
We try to arrive 10-15 minutes before FUN BUS activities are scheduled to start. Upon our arrival, one of our staff members will greet you, answer any questions and set up the bus. We may ask for your help with nametags, especially with younger guests.
One or two parents are welcome at the front of the bus at any given time. We ask that they remain at the front of the bus unless special circumstances need to be considered. It is also not necessary for any adults to remain on the bus, if they prefer not to do so. Two adults only are allowed in the drivers quiet area. Guests parents are welcome to come out for pictures at the end of the session or party.
Shoes are worn at all times for health and safety reasons. No flipflops or CROCS!
Yes! With an onboard generator powering multiple AC/heating units, we're able to provide a comfortable atmosphere regardless of season!
Frequently Asked Questions - Birthday
After the party we will collect the remaining balance due, if any. Tips for our staff are appreciated, but are left to your discretion.
If the birthday child has a special music request, let us know and we will try to accommodate. For safety, please no adults in the play area or on the equipment. Additionally, the FUN BUS needs four car lengths to operate and no food or drink in the FUN BUS.
Parents & Kids Love FUN BUS!
"My 4 & 6 year old daughters and their friends both LOVED the FUN Bus!! The best part was for the parents - sitting in my living room, sipping coffee, and watching from afar as their kids had an hour of exercise & FUN! I highly recommend the FUN Bus!!"

- Darcie K.
Areas We Serve
Allendale, Carlstadt, Cliffside Park, East Rutherford, Edgewater, Elmwood Park, Fairlawn, Fairview, Fort Lee, Franklin Lakes, Garfield, Glen Rock, Hasbrouck Heights, Ho Kus, Leonia, Little Ferry, Lodi, Lyndhurst, Mahwah, Maywood, Midland Park, Moonachie, North Arlington, Oakland, Palisades Park, Paramus, Ramsey, Ridgefield Park, Ridgefiled Park, Ridgewood, Rochelle Park, Rutherford, Saddle Brook, Teterboro, Waldwick, Wallington, Wood Ridge, and Wyckoff