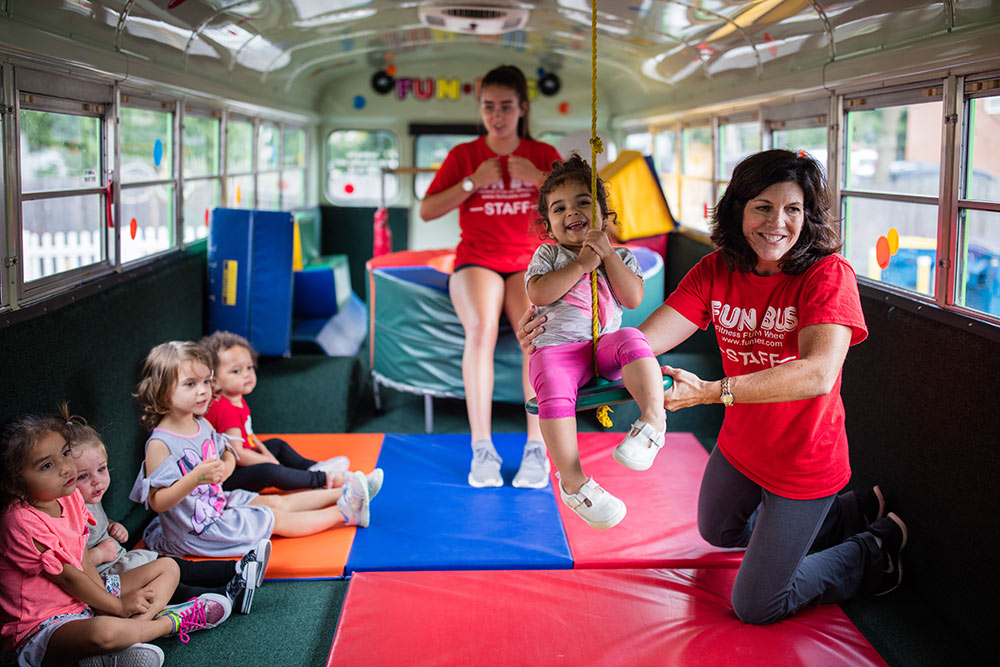 Starting a preschool franchise can be an intimidating prospect. At FUN BUS, we make the process easy for our FUNtrepreneurs. After an initial interview, if you accept our franchise agreement, the next step before you can get started is the investment.
Where Dreams Come True
People from all across the country are making their dreams of business ownership come true with FUN BUS. Listen to one of our original FUNtrepreneurs, Mia Buckley, talk about what it's like to own her own FUN BUS kids franchise.
Where any other indoor playground franchise cost upwards of half a million dollars to get started, with FUN BUS your initial investment is an industry low of $96,150-$119,900! This investment covers the cost of everything you need to get up and running, including:
The initial franchise fee
Your vehicle purchase and refurbishment – we'll make sure your BRIGHT GREEN BUS looks beautiful and fresh. Your investment also covers tags, vehicle delivery, and vehicle taxes.
Training costs and all travel expenses
Phone, computer, and software programs
An opening package that includes program accessories, safety equipment, uniforms, and promotional and supply equipment.
Insurance and additional funds for any unexpected expenses.
The higher end of the investment covers any additional vehicle refurbishment or travel expenses, but most FUNtrepreneurs end up paying an average closer to the lower end of the investment range. While these expenses covering everything you need to get up and running, there is an ongoing 7% royalty fee that must be paid to cover continued use of the FUN BUS branding and marketing programs. This is the only additional fee that investors will have to pay.
Investing in Your Future
The investment you put down when you first open your FUN BUS will carry you far into the future. Once you're up and running, ROI is likely to come quickly and your networking skills will payoff in the form of growing business. Most of our FUNtrepreneurs find success with preschools, summer camps, and community events, while receiving extra income from birthday parties and other private events. The simplicity of the FUN BUS business plan allows for these multiple streams of revenue. Highly adaptable, our business plan has proven scalable as well. Many of our Franchise Owners have gone on to add 1 or 2 more vehicles and now have whole fleets of BRIGHT GREEN BUSES. Our FUNtrepreneurs have expressed delight in the fact that they can make more profit with their BRIGHT GREEN BUS than they ever could in the corporate world. If you're looking for a future that's full of both success and fun, FUN BUS is the preschool franchise for you.
Freedom In Mobility
FUN BUS has wheels and is not bound to a single location. It drives business and it drives to business.
Convenience in Flexibility
For our FUNtrepreneurs and the parents. You get the schedule you've always wanted while helping make a busy parent's life easier!
Easily Scalable
Once you're successfully set up at one location, you're able use your own, easy-to-follow model to do the same elsewhere!
Community Focused
Our FUNtrepreneurs are actively involved in their communities through networking, partnering, and the positive impact that they make.
Fulfillment
With FUN BUS kids franchise, you are helping children with their confidence and their social/motor skills while instilling healthy habits that will last a lifetime.
Join our FUN Preschool Franchise Today
If you're excited about this investment opportunity, the FUN BUS team is excited to welcome you. In addition to fun and future security, FUNtrepreneurs can also expect high profitability. On average, our preschool Franchise Owners bring in $154,587 in annual sales. This level of success has been made possible by our strong business plan and the flexibility of our mobile style franchise. This mobility allows Franchise Owners to travel to where the business is, so they never lose out on sales. To learn more about our preschool franchise opportunity, contact us today.