FUN BUS at Daycare & Childcare Centers
The FUN BUS is an established mobile Fitness FUN on Wheels program for children ages 18 months – 7 years that can help your daycare in the fight against childhood obesity. The FUN BUS is a heated and air conditioned, full-sized, padded and carpeted school bus with kid approved gym equipment. Two fully trained FUN Instructors are on board at all times. It never moves with the children on it. We are fully insured and are more than happy to provide this to you upon request. In addition, you can be sure your children will have FUN in a clean space each visit.
We come to your facility, rain or shine. The FUN BUS provides weekly 30 minute Fitness FUN classes with weekly based session programs.
Request Info
Please message us or call to find out about pricing, options and availability.
By adding the FUN BUS program to your center you can:
Build more value to your daycare/childcare business
Enhance academics at your facility
Save time finding fitness related materials
Save money spent on inadequate movement programs and expensive equipment
Milestone, muscle and memory making for kids
A unique and positive first bus experience for toddlers prior to kindergarten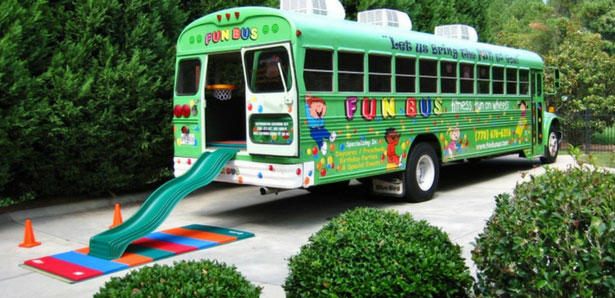 Are you ready to make your daycare / childcare center the talk of the town?
Fitness routines are changed regularly to focus on upper body strength, lower body strength, balance, coordination, and gross-motor skills. The routines engage the children in climbing, tumbling, hanging, swinging, flipping, skipping, sliding, stretching and, most of all, having FUN.
Parents & Kids Love FUN BUS!
"Our pediatrician saw an improvement in Johnny's motor skills, we owe it all to his FUN BUS classes"

- Amber C.