Want to Have Fun While You Work?
Consider Opening a Kids Indoor Play Franchise!
Kids love to play! Not only is it something children enjoy doing, but it is a necessary part of a child's physical, emotional, and social development skills. Unfortunately, cuts in educational funding and the restructuring of educational priorities have led to fewer schools offering adequate time during the day for children to move and play with each other. As a result, many parents and other caregivers of children have started to look for external options to supplement their child's education.
This is where franchises with play options for kids help their communities. Not only are kids indoor play franchises fun and owners alike, they help fill a very real need in the development of children. Play facilities offer year-round chances for kids to gain critical skills while they move. They'll learn to feel good about themselves, to enjoy exercise, and to interact well with their peers. No matter the weather outside, parents and other caretakers can turn to these franchises for safe, supervised, active play!
Not only do these franchises provide a necessary service, they are incredibly fulfilling to own! Working with children every day, you'll be surrounded by excitement, fun, and laughter. You will see the results of your work first hand and be part of making a lasting, valuable impact on the lives of the kids in your care.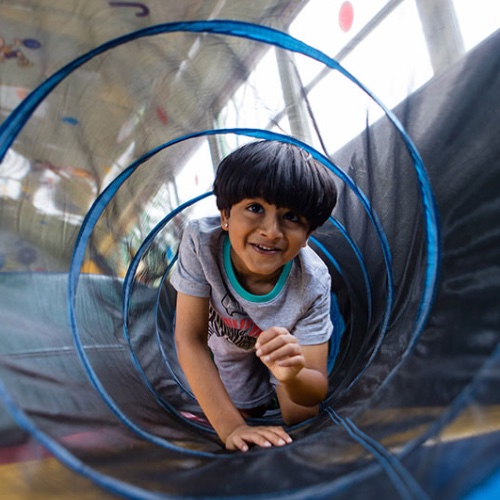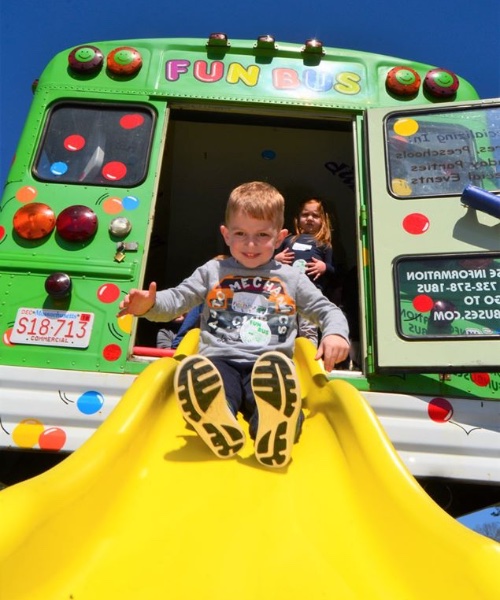 Opening an Kids Indoor Play Franchise Sounds Fun, but is it Profitable?
Absolutely! In fact, franchises like FUN BUS position themselves well by drawing on three thriving industries, giving their owners multiple revenue streams and a regular flow of customers.
As an exercise-focused play space, FUN BUS sits at the heart of the kids fitness industry, a market that brings in about $500 million a year with no sign of slowing down. Childhood obesity is an epidemic, and FUN BUS has an important role in countering its effects by teaching children to get up and move! Did you know that the average child only gets 15 minutes of physical activity each day? When you work with FUN BUS, you'll get both the internal satisfaction of knowing you make a difference while earning your paycheck.
FUN BUS also benefits from the thriving summer camp industry! The unstructured time away from school during the summer can lead many parents and caregivers to despair of how much time their children want to spend in front of screens–that's where FUN BUS comes in! Thanks to the ability FUN BUS owners have of taking the business to the customer instead of requiring customers to come to the business, you'll be able to make summer camp fun and convenient for everyone. Plus–the summer camp industry is $2 billion strong, making it a strong source of annual revenue.
Aside from more regular classes, FUN BUS is also able to craft fantastic sessions for special occasions like birthday parties! The birthday party industry is worth a whopping $25 billion with no sign of slowing down soon. Not only does FUN BUS make for a great birthday party, but we're the perfect addition for family reunions, community parties, or other one-off occasions. We take care of the party, allowing parents to enjoy the chance to focus on creating beautiful memories.
FUN BUS prides itself on being a low-cost investment with high profitability potential for owners. With a flexible, scalable business model that benefits from three thriving industries, FUN BUS owners average $154,587 in annual earnings.
What Makes FUN BUS the Best Option for Those Looking to Open a Kid-Focused Franchise?
You won't find another franchise quite like FUN BUS! Most other play spaces require expensive, specially outfitted buildings. These buildings require a larger number of staff to maintain, clean, and supervise than any FUN BUS. By taking the fun on the road, FUN BUS owners save thousands of dollars in overhead costs. Our customers love that we can go wherever they are, and by taking your business on the road, you'll be able to reach as wide a range of customers as you like! This independence allows you to set your own schedule and handle the needs of the business from the comfort of your own home.
Since we provide fully outfitted busses to our owners after they have been awarded their franchise, you will be able to start turning a profit far faster than other franchisors who have to wait for building permits and construction on their location before they can open. Thanks to this quick turn-around, many of our owners end up adding additional busses to their fleet, increasing their impact on their community as well as their own profitability.
Worried about the weather? Don't fret. Each bus is equipped with excellent climate control, allowing for year-round fun no matter where you live.
You really won't find another franchise quite like FUN BUS!
Request More Information Today!