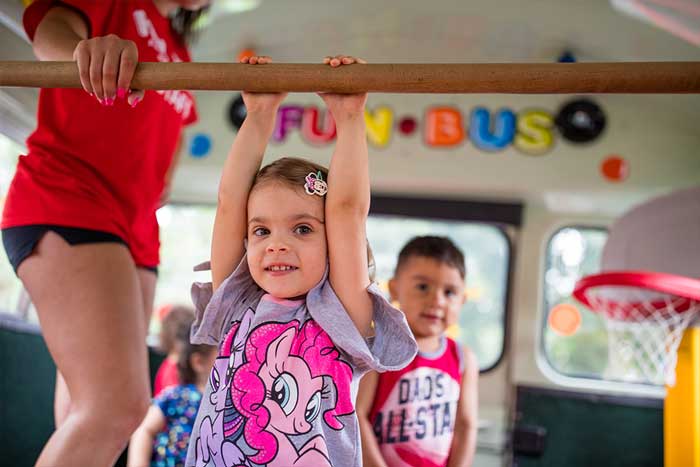 Posted on Aug 28th 2018
Benefits of Owning a FUN BUS Franchise
Over the years, FUN BUS has brought fun, fitness, and learning to kids everywhere. Our franchise opportunities have provided business owners with the privileges of earning and making the most out of their personal lives. Today, our Franchise Owners are loving and enjoying the benefits of owning a FUN BUS franchise. Read on to learn more about them and to learn how you can own your own FUN BUS franchise!
Owning Your Own Business
When thinking about owning your own business, many people are looking for a meaningful way to make a living. This generally means that they're desiring something that has the ability to help make an impact and provide more time with the people you care about.
My husband and I were looking for a change and we were interested in owning our own business. When we found out about FUN BUS, we had young children in the same age range that FUN BUS serves. We wanted something that was a little bit happier and more meaningful than some of the corporate drudgery that can be out there with some jobs. It's nice to see people smile when we pull up with our big green FUN BUS." Darla Phillips, Owner, Tulsa, OK Fun Bus
Financial freedom and happiness are among the things that everyone seeks, whether in business or in personal life. Having a business that allows you to achieve both is absolutely something worth investing in.
FUN BUS Franchise Benefits
Competition, cost, and support are often the main concerns when someone is looking to open up or own their own business. With FUN BUS, you are able to focus on a specific market that offers little competition. We take pride in our unique business concept that combines fun, learning, and fitness for kids while at the same time providing excellent support and revenue potential for our Franchise Owners. Here are the
benefits of owning a FUN BUS Franchise
:
Designated Market Territory
Turn Key
Low Investment
Low Overhead
Repeat Business
Fun Concepts
Established Fitness Programs and Routines
Marketing Program
Full Training
Ongoing Support
Quick Start Up
Mission Statement: Mission Statement: The mission of the FUN BUS is to enhance the lives of young children by providing a fun and safe environment where kids can build their self-esteem while improving coordination and gross motor skills through physical fitness and social interaction. Most importantly, our goal is to make fitness FUN! Overall, a meaningful and happy life is just one franchise away. It's simply a business worth investing. If you are interested in booking your upcoming birthday party, special event, or school program, contact us at FUN BUS or visit our
Franchise Information Homepage!