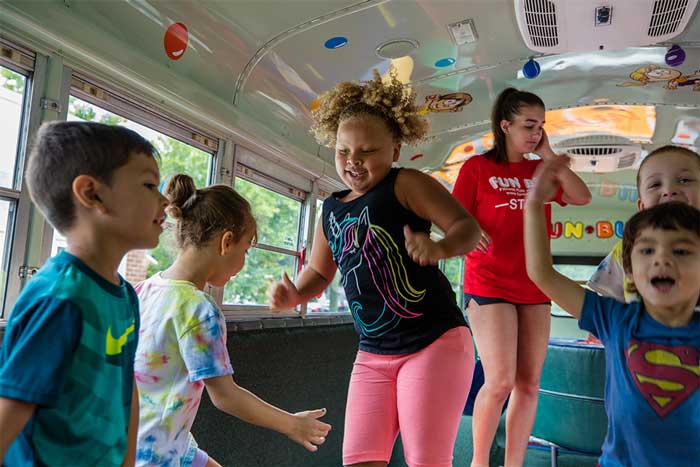 Posted on Jul 18th 2019
How FUN BUS Moves Children Off The Screens and On Their Feet!
Fortnite. Minecraft. Pokemon Go. Young children and parents alike are bound to have heard of these viral video games, popular among individuals as young as five years old. Kids are increasingly wanting to settle for staying at home, eyes glued to their phones, tablets, TVs, and more. For parents wanting to get their child out and about, FUN BUS provides the perfect opportunity for children to jump around and have fun away from technology! Our children's fitness franchise keep the kids active, engaged, and occupied without the need for a digital screen.
The Link Between Technology and Childhood Obesity
In a past article, we discussed how FUN BUS helps to combat childhood obesity as it becomes more and more prevalent in the US, with the numbers tripling in the last thirty years. The factors attributed to this exponential increase include genetics, decreasing choices for healthy options, and most recently technology. As our society continues becoming technology-driven, research has found that there have been links between children's screen time and this increase in childhood obesity. Kids are becoming increasingly sedentary with these devices, food advertisements for children's programming are mostly for low-nutrient foods, and technology continues to negatively affect sleep. Childhood obesity possesses serious mental and physical health risks that can affect children decades into their futures, thus making it crucial for kids to get, and stay, active. With technology engaging children with a constant influx of information and stimulation, parents often struggle to find opportunities that keep their children directly active and entertained. Our fitness classes at FUN BUS have proven, time and time again, to keep children engaged! Our structured, healthful, and fun early childhood fitness programs consist of cardio, music, dance, obstacles courses, group games, and so much more, to make sure our children have FUN for the entire session! Through our 30-minute classes, we utilize over 50 different FUN plans to keep the experiences new and exciting. You also have the choice of extending the plans to an hour or more to allow for even more fitness-focused games and props! Because the kids have so much fun jumping, climbing, and learning, they don't even realize they are getting a complete workout.
Technology: Easier than Fitness?
It's tempting to turn to technology to keep children occupied. The devices are small, portable, and extremely accessible. Parents oftentimes don't have the resources or time to transport their kids to various fitness programs or clubs, resulting in their kids having to stay at home on their tech devices. That's why FUN BUS is perfect for providing the fitness without the inconvenience of traveling far and wide to find the best program for your child. As a mobile "gym on wheels", we bring the FUN and fitness directly to you! Rain or shine, our bright green refurbished school buses are equipped with multiple AC / heater units so that children can enjoy the FUN BUS, regardless of the season. By coming directly to where you desire, FUN BUS makes for the most convenient birthday parties, camp activities, and school events. By eliminating the need for transporting your kid to their own fitness class, FUN BUS is truly the perfect fitness class and program for families with limited transportation and time. No longer does technology have to be used as the easy way out to keep your kids engaged; the numerous physical and academic activities FUN BUS incorporates will certainly keep your children active and save you the trouble of having to resort to a digital screen! And not only are they getting their heart pumping, but our children's fitness franchise provides the perfect environment for children to build self-esteem, improve attentiveness, and develop their gross motor skills through social interaction. So while the video games may keep the kids temporarily preoccupied on a small screen, FUN BUS offers the convenience, cognitive development, physical activity, and FUN that will make them healthy adults in their futures.
---
If you're looking to enter the children's fitness franchise space, FUN BUS could be the perfect opportunity for you! We are always looking for community-oriented individuals wishing to be their own boss, work flexible schedules, and positively influence the health of young children! Click
HERE
to learn more about FUN BUS, how you can join the FUN BUS family, and how to help spread the joy of our mobile gym to your community as a FUNtrepreneur!