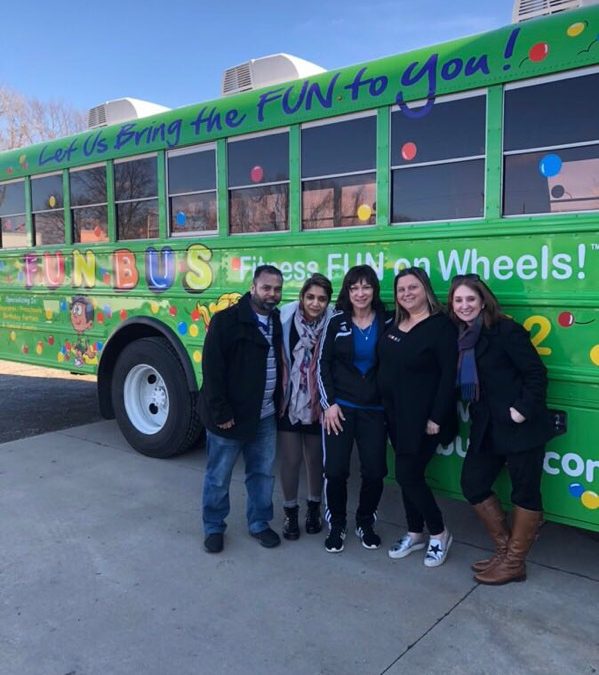 Posted on Jun 5th 2019
FUN BUS Officially Open in North Tarrant County, Texas
We are beyond thrilled to welcome Hiren and Hetaswi Patel to the growing FUN BUS family! This husband & wife tandem just opened the newest FUN BUS location in North Tarrant County, Texas, and couldn't be more excited about it! Hiren was actually first introduced to our children's fitness franchise opportunity by his sister who actually owns two FUN BUSes of her own in New Jersey! With his wife by his side, and with additional validation added by his sister, Hirem decided that FUN BUS was an opportunity worth pursuing.
Hiren was working as a full-time supervisor for the Network Repair Bureau at Verizon. With years of experience in managing people and part of Verizon's wireless network, Hirem has a successful background in analytics, performance management, project implementation, and driving team objectives.
Hetaswi is a Pharmacy Technician who is working at CVS. Hetaswi's degree, combined with her employment experience, allows her to bring patience and the experience of handling children with her to her new FUN BUS journey! Hetaswi also has a background in accounting, time & finance management, and budgeting!
Together, Hiren and Hetaswi make an incredible team!
BUT!
It's important to know, though, that the BIGGEST driving force for Hirem and Hetaswi was actually their two-year-old son, Ahyaan. Ahyaan is actually in charge of performing quality control so with Ahyaan at the helm, Hirem, Hetaswi, and all of the FUN BUS customers can rest assured that the FUNness, excitement, and safety levels will all be up to speed!
Both Hiren and Hetaswi thrive in face-paced environments. They are hopeful that this new venture, with FUN BUS, will present the sorts of challenges that they desire in order to help them grow - individually and together. FUN BUS brings with it the joy of working with children and the ability to share this joy with people from all over the community. It's this combination of joy and challenge that ultimately led Hiren and Hetaswi to franchise with FUN BUS.
Welcome to the FUN BUS family, Hiren, Hetaswi, and Ahyaan!
Are you interested in bringing a children's fitness franchise opportunity like FUN BUS to your community? Then that's wonderful to hear! We would love to have you join our family, as well!CLICK HERE to be taken to our franchising site where you can find out all sorts of information on how to bring a FUN BUS to your community and smiles to everybody's faces!
READY TO START?
Fill out this form to get started now.