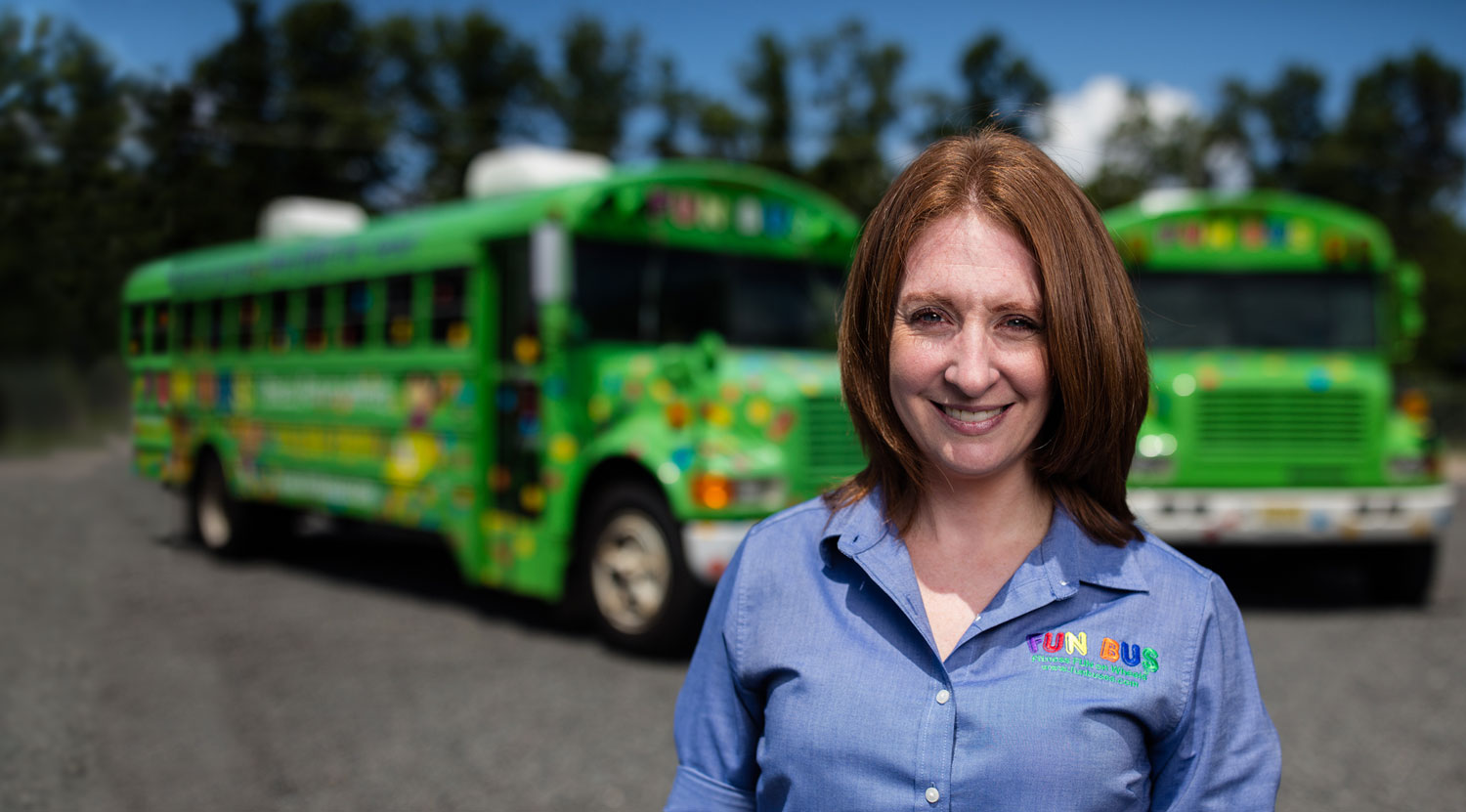 Posted on Jun 20th 2019
Meet FUN BUS President - Stacey Kimmins
FUN BUS was originally started in 2003 by a creative daycare owner who wanted to provide better, more involved fitness programs not only for her students but for children everywhere. To accomplish this, the daycare owner refurbished an old, retired school bus and decided to make her dream mobile. Bringing the fun to preschools, birthday parties, various centers, and other special events, FUN BUS quickly grew to take advantage of an unfulfilled and unsatisfied market. When the opportunity to purchase FUN BUS presented itself, I jumped at it and I haven't looked back. My name is Stacey Kimmins and I acquired FUN BUS in 2014. It quickly became apparent that there was SO MUCH more to FUN BUS than what originally met my eye. I realized, immediately, that FUN BUS was more than just kids playing on a bus - it was creating and providing these children fond memories and experiences that will never be forgotten while teaching healthy habits that will last them a lifetime. It was easy to see just how much the kids loved FUN BUS but it was just as exciting to hear about how much their parents loved it, too! Almost every conversation and interaction regarding FUN BUS was positive and enthusiastic and it soon became difficult to find anybody who hadn't yet experienced FUN BUS. My nephew, Mason, was signed up for FUN BUS at his preschool and his pediatrician was impressed at his improved level of motor skills. When it comes to FUN BUS, the list of positives continues to grow and grow. Here at FUN BUS, our mission is "driving young children to the love of fitness." We are uniquely positioned and extremely excited about FUN BUS and we are looking for new FUNtrepreneurs (as we like to call our Franchise Owners) who are looking for an opportunity for a low-investment, high-growth potential, management model franchise. With FUN BUS, you not only have a chance to make a difference by building a healthier community but you are also given a flexible work-life balance that allows you to spend more time with the people you care about. FUN BUS is a difference maker for everybody involved! If you are interested in becoming your own boss and making a positive, healthy difference in your community, I implore you to look into franchising with FUN BUS. With any luck, we will have a chance to meet each other personally, very soon. Thank you for your interest in FUN BUS and have a FUN day!
- Stacey Kimmins, President of FUN BUS
READY TO START?
Fill out this form to get started now.