Are you tired of the same old boring desk job? Do you dream of a career that is successful, flexible, and fulfilling? With FUN BUS, your dreams can come true! FUN BUS is a kids gym franchise that rolls on the wheels of a BRIGHT GREEN bus! Our buses are completely climate controlled and full of colorful, fun children's gym equipment. FUN BUS' mission is to "drive the love of fitness to the young child" and that's why you'll see our big bus driving around the schools, daycares, and events of your local community. Our goal is to bring fitness and fun to children so they can learn to grow strong and stay healthy. We are looking for additional franchise owners that share this goal and are dedicated to having fun to join our kids gym franchise!
Where Dreams Come True
People from all across the country are making their dreams of business ownership come true with FUN BUS. Listen to one of our original FUNtrepreneurs, Mia Buckley, talk about what it's like to own her own FUN BUS kids franchise.
THE BOOMING KIDS FITNESS INDUSTRY
Are you excited about our mobile gym franchise opportunity and interested in joining our team? Childcare and education experience, while an advantage, are not necessary requirements to own a Fun Bus. Most of our current Fun Bus FUNtrepreneur are business savvy individuals with the following skills:
FUN BUS mobile gym franchise is a unique opportunity that takes advantage of three extremely lucrative industries: Kids Fitness ($500 million*); Summer Camps ($2 billion*); and Birthday Parties ($25 billion*). Our main focus is kid's fitness and we offer half hour long fitness classes to children aged 2-7 years. For our typical fitness classes, we drive to preschools, daycares, and community events. Our lesson plans can be easily adapted to summer camps and birthday parties, adding two additional streams of revenue for our FUN BUS owners. As a FUN BUS kids gym franchise owner, you can be assured your schedule will stay busy.
Many parents and school teachers are anxious to fix the growing problem of childhood obesity that has been exacerbated by funding cuts to public physical education programs. FUN BUS has filled this need by offering an exciting and fun option to teach children the importance of exercise in a way that is both cost-effective and convenient for parents and educators. The demand for childhood fitness classes will only continue to grow, offering FUN BUS owners an endless opportunity for growth. The kids fitness industry has also proven to be recession resilient as parents will never sacrifice their children's health needs, even in times of economic downturn. An investment in FUN BUS mobile gym franchise is not only an investment in your own personal success, but an investment in the future health and wellbeing of your community's children.
*Numbers obtained from our 2021 FDD
My life before FUN BUS, I worked in the corporate world. You have to go by a lot of other people's schedules - what the boss wants, how late you're going to work... I wanted to do something a little bit closer to home and with more flexibility.
- Mia Buckley
FUN BUS Kids Gym Franchise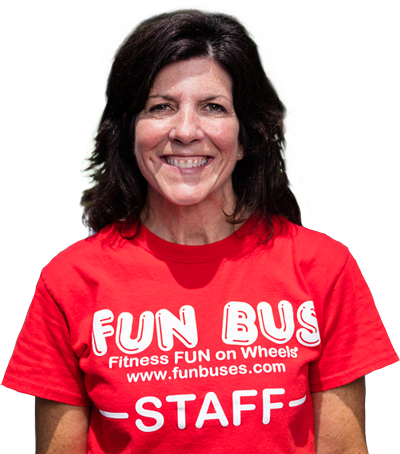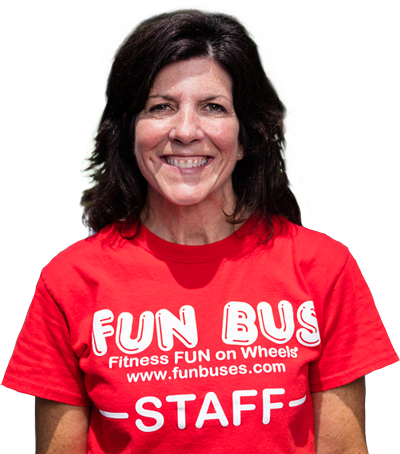 Join the FUN BUS Kids Gym Franchise!
We are looking for business savvy FUNtrepreneurs who are passionate about addressing the growing childhood obesity epidemic. If you think you've got what it takes to drive our BRIGHT GREEN FUN BUS around your community, then we would love to hear from you! An investment in FUN BUS brings you the opportunity of a successful and flexible career and a lifetime of fulfillment by doing your part to bring children health and fitness education. While our current owners love the success they have found with FUN BUS, their favorite thing about our kids gym franchise is the smile and laughter of the children aboard the FUN BUS!