No one bats an eye when an ordinary yellow school bus drives by—but when a BRIGHT GREEN FUN BUS pulls up, children are known to jump, squeal and shout for joy! They know they're in for the best play time they'll have all day as soon as they climb aboard.
FUN BUS is a kids franchise that is pulling in revenue from three strong industries.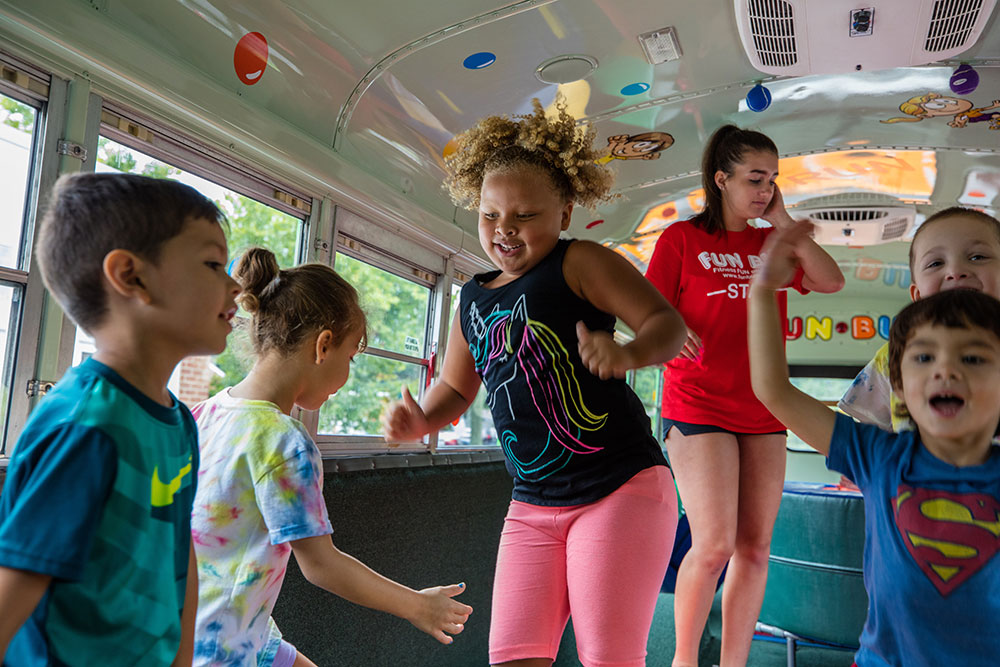 By capitalizing on all three of these lucrative industries, the potential gains are outstanding! If you're looking to invest in an kids indoor gym franchise, FUN BUS is the best choice in the industry.
The opportunity for success is enticing to entrepreneurs who invest in FUN BUS. Currently, our Franchise owners bring in an average of $154,587 annually , making FUN BUS one of the most profitable child franchises around. It's possible you can make just as much, or more, than our average earners. The demand for kids fitness is growing rapidly and more BRIGHT GREEN BUSES are cruising the nation, bringing fun and movement to children and fulfillment to Franchise Owners.
A Cause
Worth Fighting For
FUN BUS is an innovative kids franchise that is shaking up the children's fitness industry! Our main goal is fighting the growing rate of childhood obesity. While we sense the urgency of our mission to encourage healthy childhood development, we're also pros at making it incredibly fun!
38 million* children worldwide were overweight or obese in 2019.
Once thought to be limited to high income populations, the World Health Organization now says obesity is on the rise in mid-to-lower income brackets as well.
Childhood obesity more than tripled from 1975-2016*.
Those who join us at FUN BUS are helping to curb these trends with professionally developed games and activities that get kids moving, jumping, climbing and bouncing their way to improved health.
A totally unique concept, our "gym on wheels" is a mobile indoor kids gym franchise focused on fitness. Completely climate controlled, our BRIGHT GREEN BUSES are ready to bring physical wellness to children year round. All standard FUN BUS locations feature kid-safe equipment like tumble mats, monkey bars, climbing shapes, swings, rings, and a huge slide! The surround sound system plays motivating music and ensures all children on the bus can hear any important announcements.
*Numbers obtained from our 2021 FDD
Our FUN-tastic Business Model
With over two decades to back us up, we have proven what a viable and resilient kids franchise business concept this really is. For those who choose to invest in FUN BUS, there are multiple built-in rewards that make this a fantastic career opportunity.
Mobile Business
As the economy becomes more mobilized, traditional brick and mortar businesses are at a disadvantage. When your business is on wheels, you go wherever the customers are! This also leads to reduced costs and a lower investment range than what you'll find with other preschool franchises.
Multiple Revenue Streams
Franchise Owners enjoy a variety of ways to find customers through our preschool franchise. By scheduling events at daycare centers, preschools, summer camps, birthday parties, and community events, it's easy to keep a full calendar.
Ease of Operations
Since everything you need to run your indoor playground is on a BRIGHT GREEN BUS, you don't need any office space! Many FUN BUS owners keep everything organized with a simple home office set-up.
Positive Influence
Whether it's providing a social environment where kids can interact with others, helping to fight childhood obesity with lots of movement, or leading mentally stimulating activities, operating a childrens franchise means having a positive impact on young, impressionable lives.
In Demand
Parents and educators are eager to find healthy outlets that get kids moving. Adults want something novel, something convenient and something that will lead to the healthy development of their little ones.
Strong Support System
We support our Franchise Owners in a number of ways. We'll help you find the right bus, oversee refurbishments, and train you to build your clientele and hire qualified staff. Once you're open for business, we'll keep you up-to-date with phone calls, offer field support, forums, monthly reviews and conferences. And, as always, you'll have access to our team 24/7.
Easy to Scale
Once you've got one bus up and rolling, the ROI comes in quickly enough to allow you to expand in no time. With multiple buses in operation, you're able to canvas a larger geographic area and can enjoy being the captain of a whole fleet of fun-filled buses!
FUN BUS Kids Franchise Investment
You can be sitting behind the wheel of your very own BRIGHT GREEN BUS with an industry low investment of $63,850 - $144,000 . This startup cost covers everything you need to get your business started, and will help pay for the following:
1. Training and Related Travel Expenses
When you invest in us, we invest in you. Our training program covers everything you'll need to know about the children's fitness industry and how to run a successful preschool franchise.
2. Vehicle Purchase and Refurbishment
You'll have your own colorful FUN BUS all retrofitted and ready to go with a portion of your investment.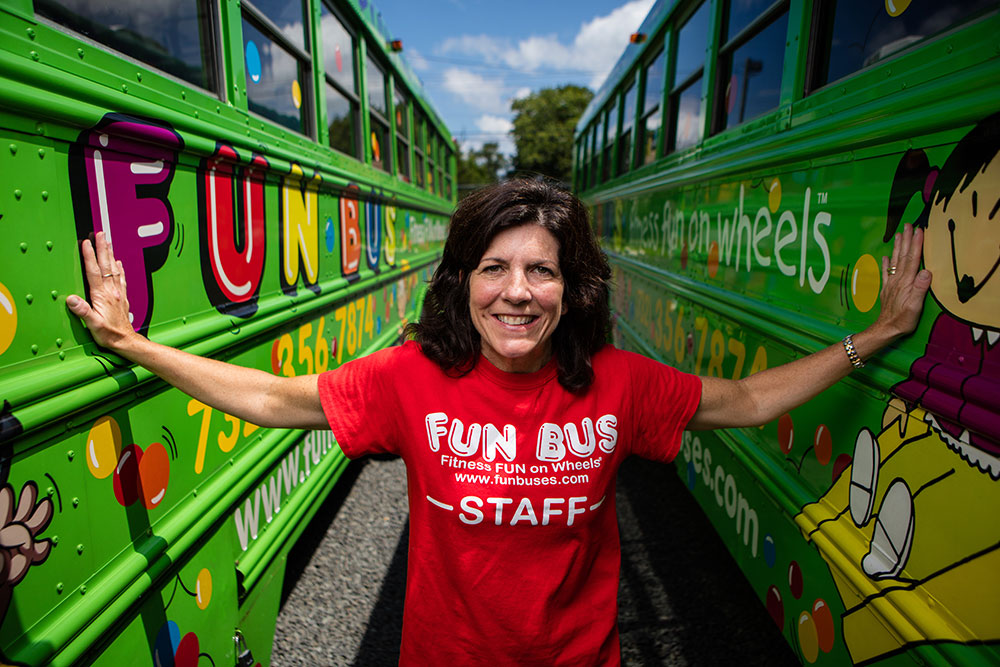 3. Equipment, Uniforms and Software
Your investment will pay for your start-up marketing kit, insurance deposits and required technology -- all the bells and whistles needed to ensure your BRIGHT GREEN BUS rolls along smoothly.
4. Grand Opening Promotion
We'll help generate excitement and spread the news throughout your community in preparation for the opening day of your FUN BUS indoor gym franchise.
Choose A Fulfilling Career
Because kiddos are a number one priority for parents and caregivers everywhere, adults are eager to do whatever it takes to support childhood development. In an effort to fight the rise in childhood obesity and stagnant living habits, our curriculum provides kids with more than 50 lessons to get them up and moving.
Just think! You could be the reason kids are getting out of the house, learning to refine gross motor skills, enjoying a healthy dose of social interaction and keeping their little hearts strong. Building healthy habits from such a young age leaves an impression that can last a lifetime. Think of the impact you could have within your neighborhood! Our preschool Franchise Owners are doing just that.
Wouldn't you love being a force for good in our world? You'll appreciate the fulfillment that comes from this unique opportunity.
Who We're Looking For
Are you passionate about childhood fitness and searching for a career that lets you feed this passion? Do you want more freedom and independence in your professional life? Perhaps you just love having fun and being around kids! If this describes you, you're an ideal fit for a FUN BUS franchise.
We are looking for FUNtrepreneurs who are motivated to fight the childhood obesity epidemic. To get a little more specific, here are the top three qualities we're looking for in a Franchise Owner:
Fitness And Health Enthusiasts
Our mission at FUN BUS is "Driving the Love of Fitness to the Young Child." We look for people who are as passionate about addressing the childhood obesity epidemic as we are. Our goal is to bring fitness and fun to children across the nation so we can encourage them to grow up healthy and strong.
Networking And Community Focus
Most of your business will take place within schools, daycares, camps, and community events so having people skills is important. You should feel comfortable networking with community leaders, educators and parents.
Passionate About Working With Kids
With FUN BUS, the majority of your day will be spent with kids! You should enjoy working with children and cherish the fun moments spent with them on your FUN BUS. As our childrens franchise is geared towards kids aged 2-7, you will need lots of patience and energy as you interact with them!
Can't you just see yourself turning heads as you drive your BRIGHT GREEN BUS around the streets near you? If this sounds like an appealing direction you'd like to learn more about, let's be in touch!