How is FUN BUS the most fun to franchise children's activities? While our unique curriculums and amazing instructors contribute to the fun, it is the BRIGHT GREEN BUS that really is the star of this kids franchise. What's on the BRIGHT GREEN BUS, you ask? Well, only the most fun things in the universe: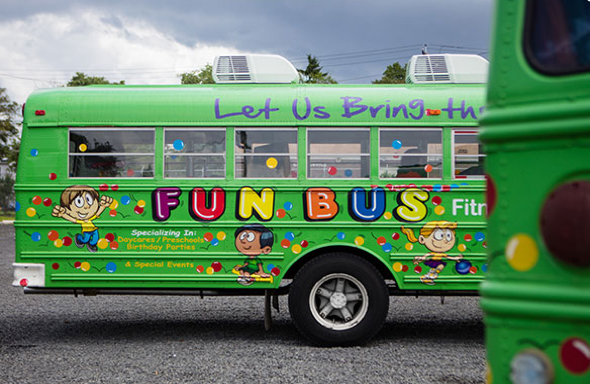 Colorful Exteriors
Each BRIGHT GREEN BUS is painted in fresh, bright coats of lime green and decorated with our colorful logo and fun designs. As soon as the BRIGHT GREEN BUS rolls up, children go wild. Whether they've been aboard before or not, they know they're in for the time of their lives when they see the whimsically decorated FUN BUS.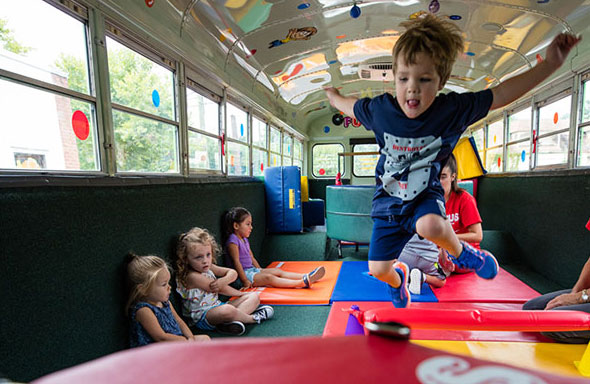 Fitness Equipment Galore
While the exterior of the BRIGHT GREEN BUS is pretty darn exciting, its what's inside that really gets the fun started. Kids are delighted to find tumbling mats, monkey bars, basketball hoops, swings, climbing shapes, rings, and much more. Most of the FUN BUS curriculum is centered around this age-appropriate gym equipment. Our instructors make sure kids have fun while staying safe.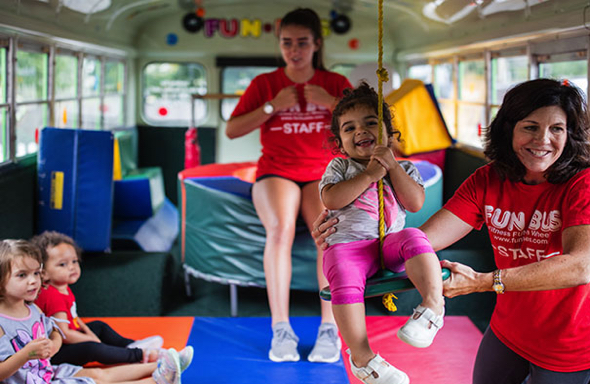 Team Games
Singing, dancing, clapping, and screams of joy are common sounds aboard the FUN BUS. Our talented instructors lead the children in games that encourage cognitive and social skills.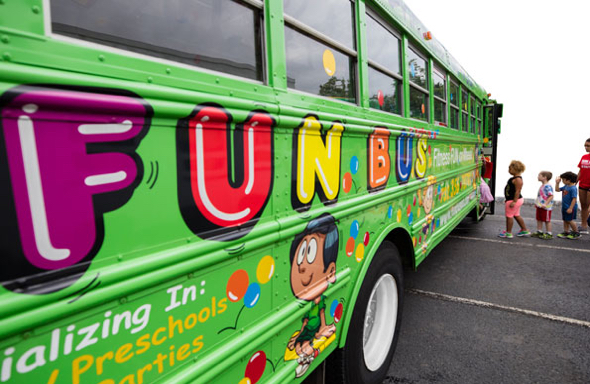 Laughter and Learning
The BRIGHT GREEN BUS is so entertaining that kids don't even realize they're learning! Between bouts of laughter and whoops of joy, the kids aboard the FUN BUS are learning how to stay fit and active, ensuring them a healthy future. There's nothing more FUN than that!
Why do we make the BRIGHT GREEN BUS so fun? So that kids can learn to enjoy physical activity! Our ultimate goal is fighting the epidemic of childhood obesity. Unlike strict physical education programs that turn exercise into dreadful drills, the FUN BUS makes exercise an enjoyable activity. This FUN approach to exercise ensures that children will learn to incorporate physical activity into their daily lives, setting them up for a healthy future.
We are On-the-Go for Maximum Impact
While the BRIGHT GREEN BUS makes for an exciting playground, there is another benefit to being on wheels. Our kids franchise is able to go wherever the children are which allows us to fulfill our goal of "driving the love of fitness to the young child." Children in our local communities get to experience the FUN of our franchise no matter where they are located.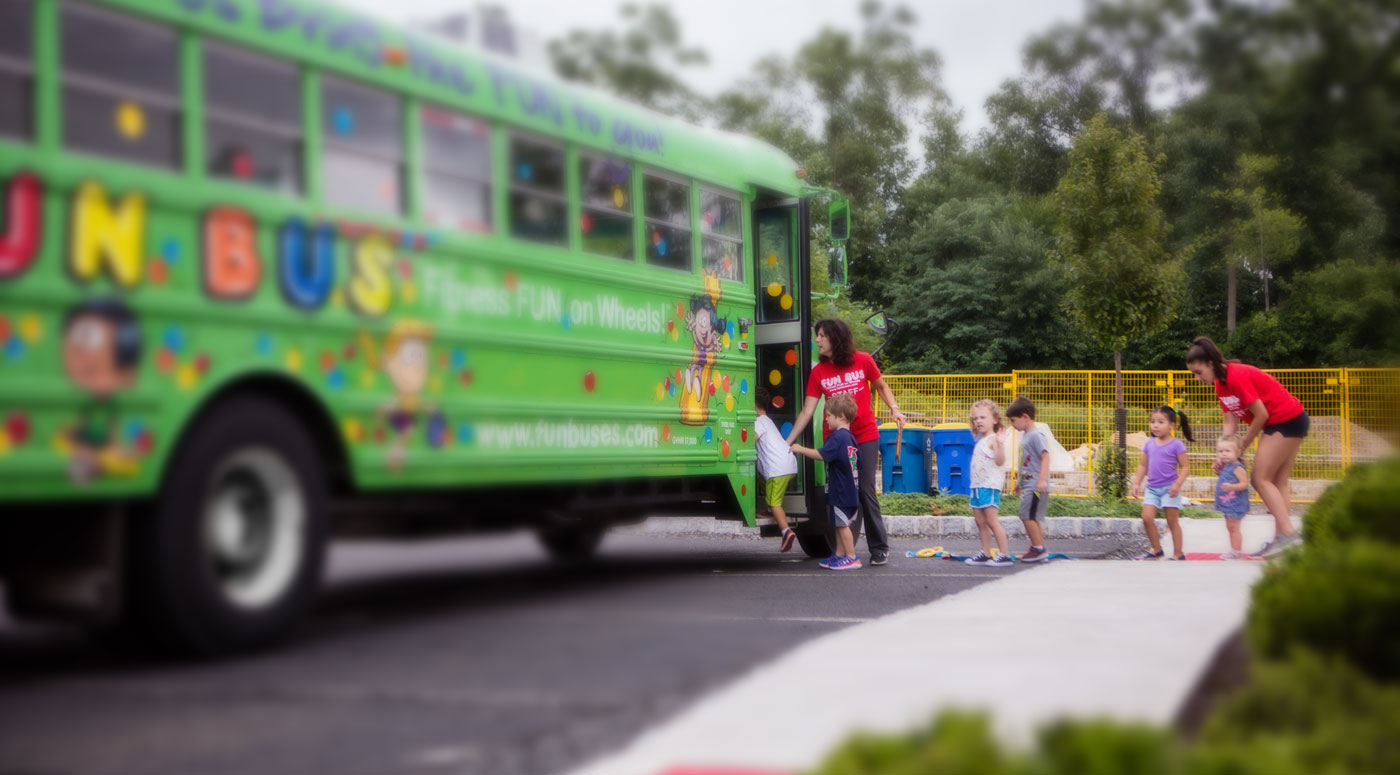 Our franchise model is also beneficial to our franchise owners because it gives them flexibility. As a FUN BUS owner, you'll have the ability to go wherever business is. Typically, our kids franchise owners service preschools, birthday parties, and community events. With a mobile franchise, the possibilities are endless!
My life before FUN BUS, I worked in the corporate world. You have to go by a lot of other people's schedules - what the boss wants, how late you're going to work... I wanted to do something a little bit closer to home and with more flexibility.
- Mia Buckley
FUN BUS Kids Gym Franchise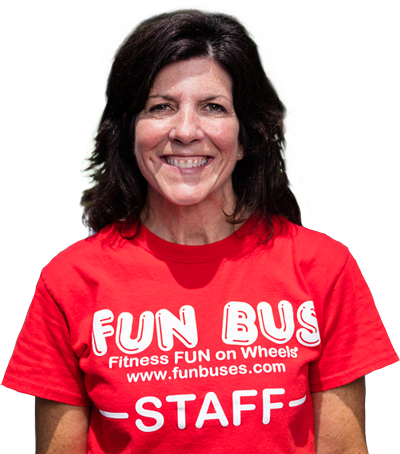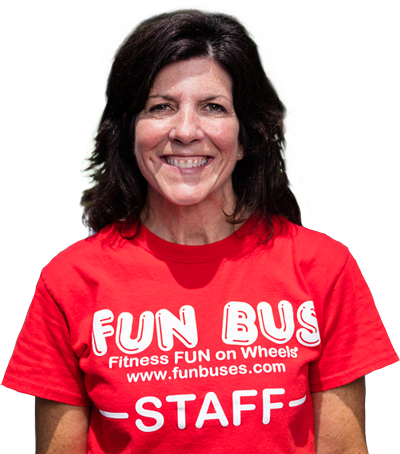 Learn More About our Franchise Today
Still have questions about what to do to franchise children's activities? Check out our FAQ page or feel free to give us a call. We are happy to answer any questions you may have about the BRIGHT GREEN BUS and our fun-filled program.